Off-Piste Skiing & Boarding
In order for the Off-Piste activities to go ahead, they need to be arranged in advance as the High Mountain Guides need to be booked, to ensure their availability.
Members of the Off-Piste activities must have a valid 6-day lift pass for Paradiski area.
| DURATION | DAYS | GROUP SIZE | JOINING FEE |
| --- | --- | --- | --- |
| Single Day Excursion | Tuesday | Min 4 people / Max 8 people | 75€ |
| Three-Day Excursion | Tuesday through to Thursday | Minimum 5 people | 200€ |
| Three-Day Course | Tuesday through to Thursday | Minimum 5 people | 180€ |
| Six-Day Hosted Group | Sunday through to Friday | 6 people | 300€ |
New 6-day Off-Piste Hosted Group with Arron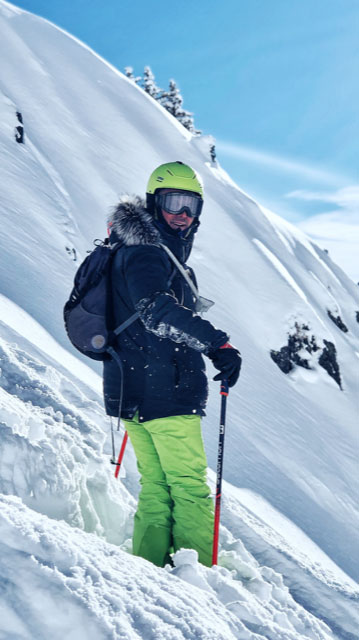 In a first for EGSW2020 we are holding an all-week off-piste hosted ski group. Arron will be joined by an experienced mountain guide who will enable us to access restricted areas including the national park off the back of the Aiguille Rouge (Reserve Naturelle des Hauts de Villaroger). This offers a fabulous 2,000m descent down to Villaroger.
The numbers are limited for safety and we can't stress enough that you need to be a fearless skier with an ability to ski any slope in any condition. The group will have a maximum of 6 guests and 4 places have already been reserved so get in quick if you are interested. Those who can't keep up with the group, will be removed immediately and no refund will be offered. For the safety of all involved the guide and host's decision in this will be final.
You will be provided with all the equipment transceiver, probe, shovel and be given a refresher on how to use them in an emergency. Where we ski will depend on conditions however there is excellent low altitude and high altitude options in Les Arc and La Plagne.
The group will run for 6 days and the cost is 300 euros per person.
MORE INFORMATION
If the High Mountain Host decides that no itinerary is possible during our week or if there are not enough participants in your chosen group you will be given a full refund or the option of joining a different group and the difference in your joining fee being refunded.
Off-Piste skiing can be dangerous, this is why we have organised the Introduction, and Course.
The Guided Excursion groups are not lessons. It is a requirement that you are a capable Off-Piste skier to join them. If you are not confident that your ability will be of the standard required then please contact us before booking into either of these groups.
If you are not to the required standard, you could put other members of the group in danger and will be asked to leave the group by the High Mountain Guide whose decision is final
If you are asked to leave an off piste group by the High Mountain Guide, your joining fee will not be refundable.