Discover the Paradiski Domain & meet other EGSW guests by joining our Hosted Groups
If you are a good skier (above the level of Ski School class 4) joining the Hosted Groups will give you an amazing weeks skiing across the whole of the Paradiski Domain.  Incredibly social, the Hosted groups are a great way for getting to know other EGSW Guests and having like minded people to ski with.
Each Group has a  European Gay Ski Week volunteer Snow Host at the helm and is accompanied by a professional guide / instructor from Evolution 2 Ski School. 
We all like to ski in different ways and our Hosted Groups are designed to reflect this, matching you with other guests who like to enjoy the mountain in the same way.  The groups are not all the same they cater for how you like to ski – very fast, fast, or more leisurely – and how you like to lunch (lunch is not included).
Our Off Piste Hosted Groups, Excursions and Lessons have a dedicated Off Piste Page

| GROUPS | DESCRIPTION | LUNCH PREFERENCE |
| --- | --- | --- |
| Superfast | Expert ability – Harder, Faster, Steeper, Deeper! | Self Service |
| Fast | Can handle any challenge in any weather. | Self Service & Gourmet |
| Steady | Prefers red runs, but will blacks and bumps under protest. | Self Service & Gourmet |
| Off-piste | Experience off-piste skiers only. (see Off Piste Page) | Whatever is available |
Self-Service groups generally spend 15€-20€ per person per day on lunch. Gourmet groups spend on average 40€ per person per day on lunch.
Groups run from Sunday to Friday (with Tuesday off), except for the off-piste groups that run to individual timetables 1 day, 3 day or 6 days
There is a maximum of 14 guests in each group, Off Piste Group sizes vary but with a maximum of 8 guests
| DAYS | PRICES |
| --- | --- |
| Sunday and Monday | €32 per person for the two days |
| Wednesday, Thursday and Friday | €48 per person for the three days |
| 1-day (Tuesday) Off-piste Group | €75 per person for the day |
| 3-day Off-piste Lesson | €180 per person for the three days |
| 3-day Off-piste Group | €200 per person for the three days |
| 6-day Off-piste Hosted Group | €300 per person for the six days |
Level of Skiing and Boarding
The Hosted Groups are for very good skiers only (above the ability of the top class (class 4) of ski school). To join you must be able to ski a black run in all conditions, you don't have to enjoy it, but you must be able to do it, if the need arises. If you are not this level of Skier or boarder we recommend you join the EGSW Ski & Snowboard school, the classes have a maximum of 9 people and once you have completed class 4 you should be at the required level to join our hosted groups.
The hosted groups are not lessons. It is a requirement that you are a capable of skiing at the level of the group you have joined. If you do not have the required level, you may be asked to leave and your joining fee will not be refundable.
Meet our hosts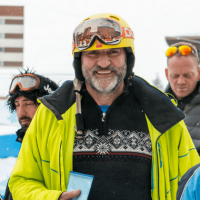 Andrew Pavord
Skier - Steady Gourmet
Andrew's group like scenic reds, blues and occasional blacks, which they ski beautifully. They usually stop for morning coffee, and always enjoy a long lunch at a nice restaurant. They don't ski bumps, or narrow couloirs.
If this group were a nightclub...
HORSEMEAT DISCO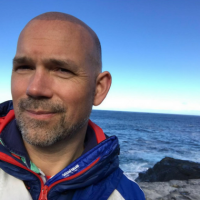 Matt Ware
Skier – Steady Gourmet
Matt's friendly group ski with purpose on fast reds and cruisy blues, with the odd black to keep them on our toes (or bums!). They are serious yet sensible skiers, rarely stopping except a quick coffee or nice mountain lunch. They ski hard until apres; where they party harder.
If this group were a nightclub...
YOUNG FARMERS BALL
Dani Clemson
Skier - Steady Self-Service
Dani's group cover the whole resort skiing every run fast, the group are pretty fit, they don't stop much. They sometimes enjoy a short coffee break and similarly quick lunch break.
If this group were a nightclub...
GREEN MAN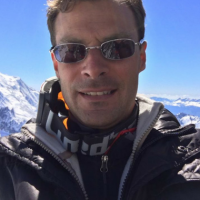 Charles-Henri Paquette
Skier - Steady Self-Service
Charles's group like to discover the whole ski area and look for the less travelled pistes. They usually take the self service lunch so they have more time on the slopes.
If this group were a nightclub...
LE DEPOT
Skip Evans
Skier - Steady Self-Service
Skip's group is a friendly, chatty bunch, who ski mostly reds and fast blues with the occasional groomed black – but they don't like bumps! If they find a piste they like, they'll often do it again, but faster. They sometimes stop for a quick morning coffee to warm the cockles... and lunch is relaxed, but brief, to ensure plenty of afternoon skiing before the fun of après.
If this group were a nightclub...
SYDNEY MARDI GRAS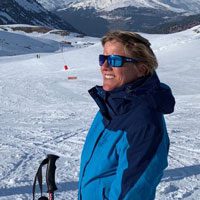 Elodie Fillieul
Skier - Steady Gourmet
Elodie's group ski the whole resort, they'll stop for a chocolat chaud each morning and a longer lunch. Elodie likes to enjoy the stunning scenery whilst skiing, as much as she enjoys raising a glass in a nice restaurant. It's the promise of a cheerful atmosphere and a delight for all senses.
If this group were a nightclub...
3W Bar Paris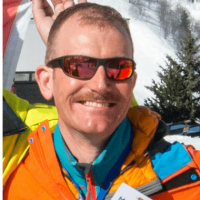 Martin Ford
Skier - Fast Gourmet
Martin Ford ('orange' Martin)'s group seek out the more challenging pistes. They like a quick morning coffee, a decent lunch and plenty of entertaining chat on the lifts.
If this group were a nightclub...
LATITUDE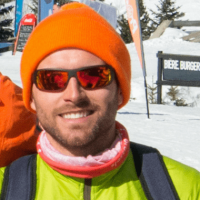 Dennis Peeters
Skier - Fast Self Service/Gourmet
Dennis's group are fit and up for (practically) anything. They ski, boogie-woogie and dance their way through the resort. Those legs have to burn at the end of the day. They stop for a quick and efficient gourmet lunch. The group are versatile and multilingual. Après ski is mandatory, wigs and costumes allowed!
If this group were a nightclub...
THE TWO BREWERS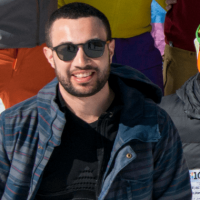 Haggai Koren
Skier - Super-Fast Self-Service
Haggai's group skis all runs at top speed, with perfect technique in all conditions. No waiting, no coffee, no whining, no stops, unless for emergency or lunch.
If this group were a nightclub...
TEL AVIV PRIDE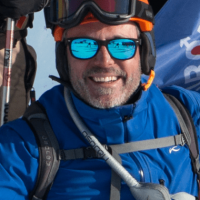 Arron Bart
Off-piste 6-day
In a first for EGSW2020 we are holding an all-week off-piste hosted ski group. Arron will be joined by an experienced mountain guide who will enable us to access restricted areas including the national park off the back of the Aiguille Rouge (Reserve Naturelle des Hauts de Villaroger). This offers a fabulous 2,000m descent down to Villaroger.
The group will run for 6 days and the cost is 300 euros per person.
Find out more about Arron's hosted group on the dedicated Off-Piste page
If this group were a nightclub...
BUCKINGHAM PALACE GARDEN PARTY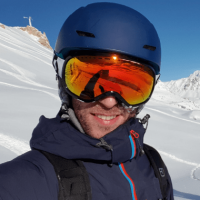 Alex Gandossi
Boarder – Steady Self-Service
Alex's group is open-minded. We are here to enjoy the trip and have fun. Sometimes full-speed, sometimes just to improve our technique, we will go everywhere!
If this group were a nightclub...
BOARDNERS'S BY LA BELLE (HOLLYWOOD)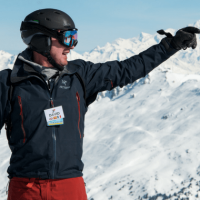 David Hoole
Boarder - Steady Self-Service
David's group burns the candle at both ends. They fling themselves down blues, reds and the occasional black with gay abandon. The emphasis is on fun boarding, though some may have had a little too much fun the night before.
If this group were a nightclub...
FIRE
Fred Campbell-Jones
Boarder - Fast Self-Service
Fred's snowboard group go hard and fast. They ride and surf as much of the mountain as possible with lunch at self-service venues. If they pass a snowboard park they hit the rails, jumps and airbags (all optional). The main aim is to make new friends and have a blast on the snow.
If this group were a nightclub...
XXL
Please Note
Our fabulous ski and snowboard hosts are EGSW regulars coming for a number of years, they are all volunteer hosts. It is always possible that they may have other commitments that come along, in which case either the group would be hosted by an Evo2 guide or another host, or you would be relocated to another group and host.